Blisters on me fingers!
February 23, 2020
Did you ever hear Ringo Starr scream, "I've got blisters on me fingers" at the end of Helter Skelter? Ringo's got nothing on our bass player. Scott Flory plays upright acoustic bass for Swingology and other area groups. Gypsy jazz employs a guitar style sometimes called "la pompe" which creates an upbeat rhythmic and harmonic basis for the melodies and soloists. Recently after two gypsy jazz pumping sets with bass solos in almost every song, Scott was checking the ends of his string plucking fingers. He held up his hand to show the callouses that are cultivated over years of being a working bass player.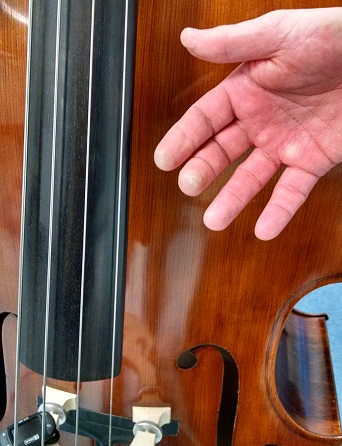 So kids, work up those fingers or play with your bass with a bow!