About Us
Swing-ol-o-gy (swing-ol'e-je) noun
1. An assemblage of accomplished acoustic musicians playing in the gypsy jazz style; 2. Seasoned professionals dedicated to creating a convivial atmosphere; 3. Pairs well with food, festivities and fun. origin: Metro Washington.
Swingology is a Washington DC-based group offering performances of primarily gypsy and traditional jazz. We are composed of guitars, violin and bass with occasional accordion or piano. Swingology will scale our size to accommodate your event and venue. We also incorporated songs from other genres (Irish, pop, rock, classical and holiday songs) for our clients' special events. Contact us to discuss your musical desires.
For bookings and more information, please fill out the form on this page or contact us directly at: book@swingologydc.com
---
Aural Appetizers
More tracks are in our Listening Room.
Douce Ambiance
Manoir de Mes Reves
Swing Gitan
---
Weddings and Private Events
---
Restaurants Wineries Breweries Distilleries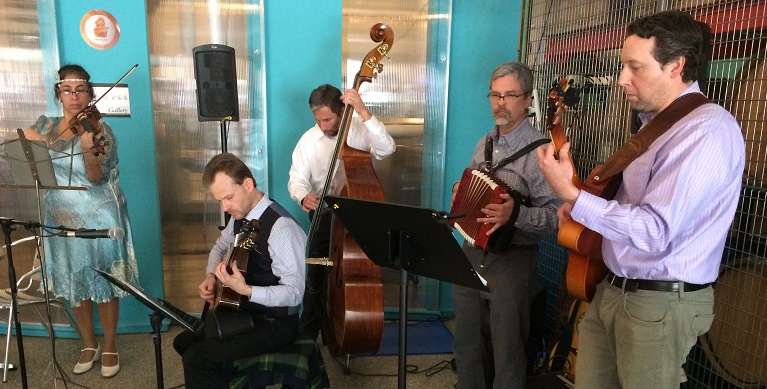 ---
Farmer's Markets
---
Community Events